GBTI has launched its 2020 Calendar Art Competition under the theme "Guyana 2020 and Beyond."
The competition seeks to stimulate and educe the creative expressions of our young people in a fun, imaginative and artistic way of how they see Guyana in the future.
The competition is opened to students of the Primary and Secondary levels across Guyana.
At the close of the competition on September 30, 2019, a team of renowned artists will review the submissions and select the top six pieces which will then be featured in the GBTI 2020 Calendar and the owners rewarded by the bank.
We encourage schools and parents to support the initiative which serves as a good platform for the creative art skills in our children to be unleashed and to also meaningfully occupy their time during the school holiday.
Among the winners featured in this year's calendar are Mariana Ramai, 15 of Saraswati Vidya Niketan School; Darshanie Pirana, 14 of Christ Church Secondary; Chelsea Wallerson, 13 of Marian Academy; Lorenzo Smartt, 9 of Port Kaituma Primary; Unn Persaud, 14 of Marian Academy and Shivanie Balkissoon, 12 of Hope Secondary.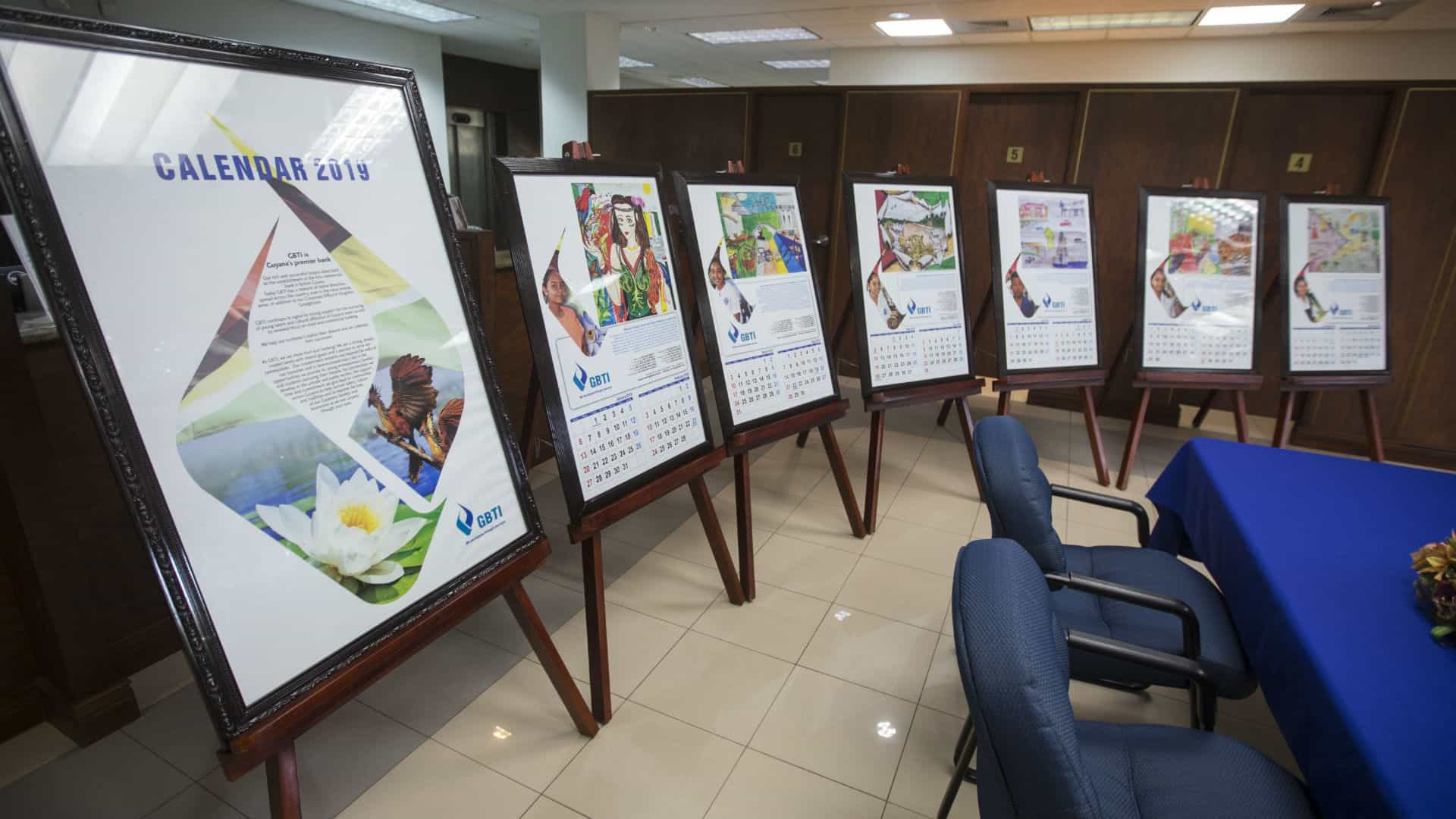 Each piece displayed the uniqueness of Guyana's richness and bright future: rich flora and fauna, rich natural resources, ethnic diversities and the emerging oil and gas sector interwoven with national symbols, patriotism and a vision of hope.
More than 130 students from schools including: Marian Academy, Annandale Secondary, New Guyana, Skeldon Line Path Secondary, School of the Nations, Hope Secondary, Abrams Zuil, North West Secondary, Queens College, Tagore Memorial, West Demerara Secondary, Waramadong Secondary and Patentia Secondary participated in the 2019 Calendar Competition.
GBTI looks forward to greater participation this year.