GBTI continues to give back to the community through its various Corporate Social Responsibility initiatives.
This year the company again signaled its support to the humanitarian efforts of several Non-Governmental Organizations through its usual financial contribution.
Among those receiving the support of the bank this year were: Help and Shelter, Artists in Direct Support, Uncle Eddie's Home, the Salvation Army, Dharma Shala Benevolent Home, Guyana Red Cross Society, Guyana Society for the Blind, Guyana Relief Council, Guyana Society for the prevention of cruelty to Animals and Food for the Poor.
"We recognize that the work of these organizations often go unnoticed and so at this time of year, in the spirit of goodwill and good corporate citizenship, our hearts are opened to supporting those in need and those who provide for those in need."
Meanwhile the staff of GBTI also opened their hearts to the children of Hararuni this year by gifting them through the Guyana Red Cross a total of one hundred gifts which will be shared at a special party in the village located along the Linden Soesdyke Highway during the week.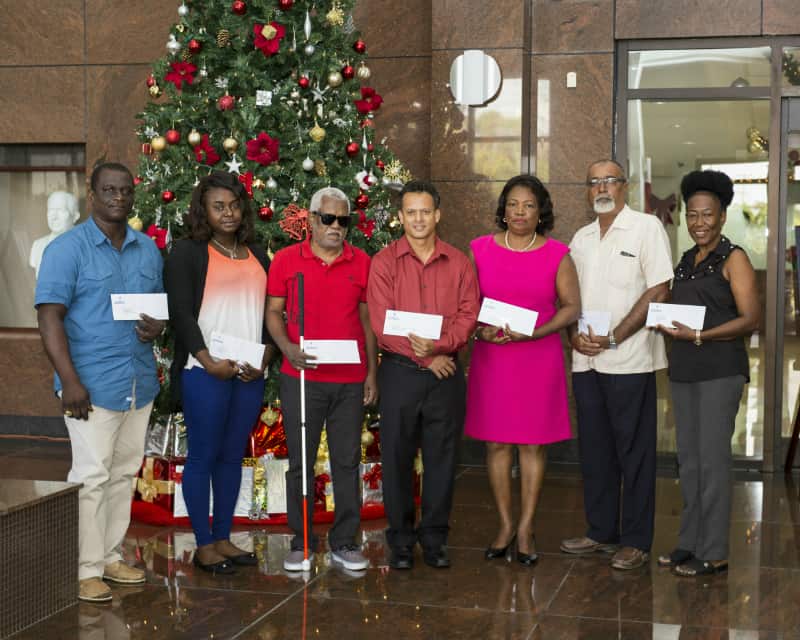 Some of the receiving NGOs representatives with their cheques